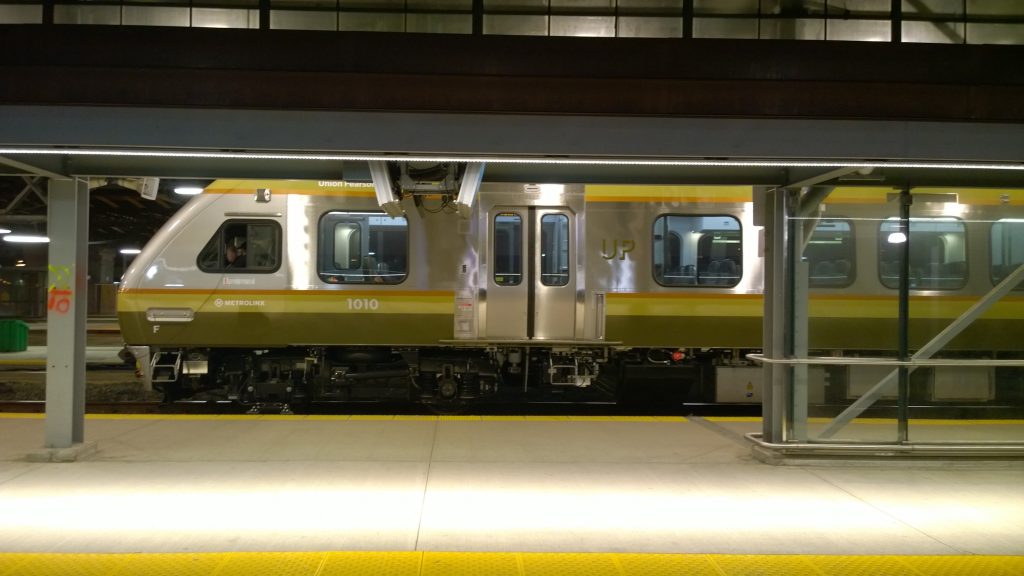 "Pass Muster" 1:
Nippon Sharyo's Specifications


In 2013, Nippon Sharyo, together with Metrolinx, gave TMV a chance to prove ourselves, by assigning an objective test for TMV's main product – the TECU control system.






"Nippon Sharyo proposes the new technologies that are friendly to people and the environment, in promoting vehicles that are barrier-free, comfortable, low in noise and vibration, light-weight, energy-saving, etc."





"Nippon Sharyo has successfully gained trust in regions around the world."


In character with their reputation and policies, Nippon Sharyo provided specifications for the TECU control system to meet.
Standards to Meet:
EN 61000-4-3 Radiated Susceptibility
EN 61000-4-6 Conducted Susceptibility
EN50121-4:2006/FCC Part 15 Radiated Emissions
EN50121-4:2006/FCC Part 15 Conducted Emissions
EN50121-4:2006 IEC 61000-4-2:2008 Electrostatic Discharge Immunity
EN50121-4:2006 IEC 61000-4-4:2012 Electrical Fast Transient/Burst Immunity
EN50121-4:2006 IEC 61000-4-5:2005+Cor:2009 Surge Immunity
IEC60571:2012 Section 12.2.4 Cold Start Test
IEC60571:2012 Section 12.2.5 Dry Heat Test
IEC60571:2012 Section 12.2.6 Damp Heat Cycle
IEC60571:2012 Section 12.2.10 Insulation Test
IEC60373: Railway Applications – Rolling Stock Equipment – Shock and Vibration Tests



If it could, they would give TMV the contract to provide TECUs to the Union-Pearson DMU train in Toronto.
Some of these specifications stated the TECU must pass a series of electronics tests, designed to determine the competence of the TECU in real-world rigours.

Rigours like what?
Temperature changes (Toronto winters to summers vary 50°C (122° F) every year),
Vibration,
Specific troubles electronics face – like static electricity in an operator's finger, or
Surges of electricity from lightning strikes, or
The normal energy put off from electronics everywhere – called electromagnetic energy.


Hyphen lab, a full-service environmental testing center in Canada, as well as Global EMC INC lab (https://www.tuv-sud.ca/ca-en), took in the TECU for testing in April, 2013.
These labs are ANAB-accredited through ANSI, following the regulations and standards from the ISO and IEC.
They are fully outfitted with formal compliance testing equipment, such as an Anechoic chamber, directional antenna, and calibrated tools for accurate measurements.

One representative TECU unit was put through the string of tests, beginning with Shock and Vibration tests.



Shock and Vibration April 16-18, 2013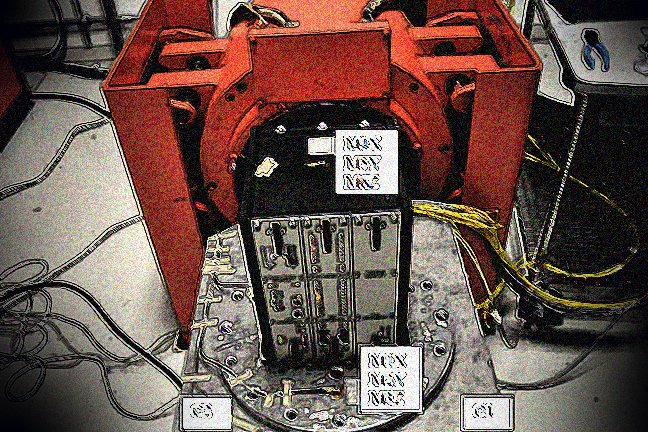 TMV: "Yes, we've had a laboratory do vibration testing. They spend five hours on one axis, then they turn it. They vibrate it for five hours on the next axis, then they turn it again. Five hours on each axis; and that is equivalent to 20 years of life on the locomotive."
Customer: "And you didn't have problems with the back panel connectors with all this vibration?"
TMV: "We had absolutely no trouble. Everything is mounted very securely."


Test Results
"Random vibration and shock testing performed for TMV control systems Inc as per IEC 61373. Three different tests for each axis were performed on the TMV Controller assembly (the TECU). The three tests completed for each axis included Long-life random vibration, shock pulses, and functional random vibration. The test set-up was optimized by completing all three tests before proceeding onto the next axis."

So how many different axes were tested?
Three; "Longitudinal", "Transverse", and "Vertical".

Each axis was vibrated with three different methods:
– 5 hours on "Long Life Random Vibration",
– followed by "Shock Vibration" which is 3 shocks upward and 3 shocks downward,
– and 12 minutes on "Functional Random Vibration" which is meant to simulate the actual field environment where the TECU will be operated (in this case Pearson Airport to Union Station).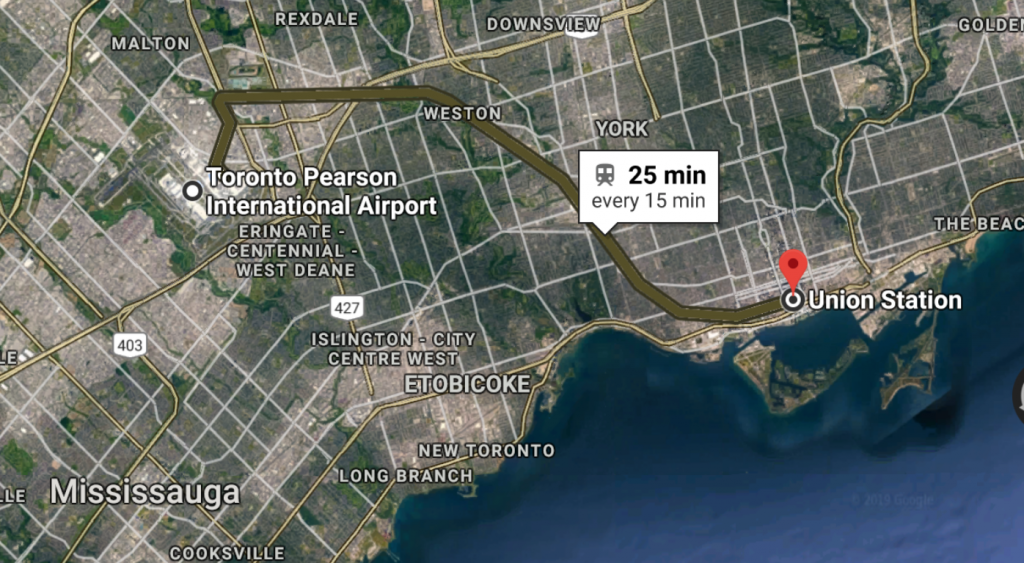 Altogether, the TECU was subjected to the equivalent of 20 years of life on the DMU.


Can the TECU Survive Radiated Emissions?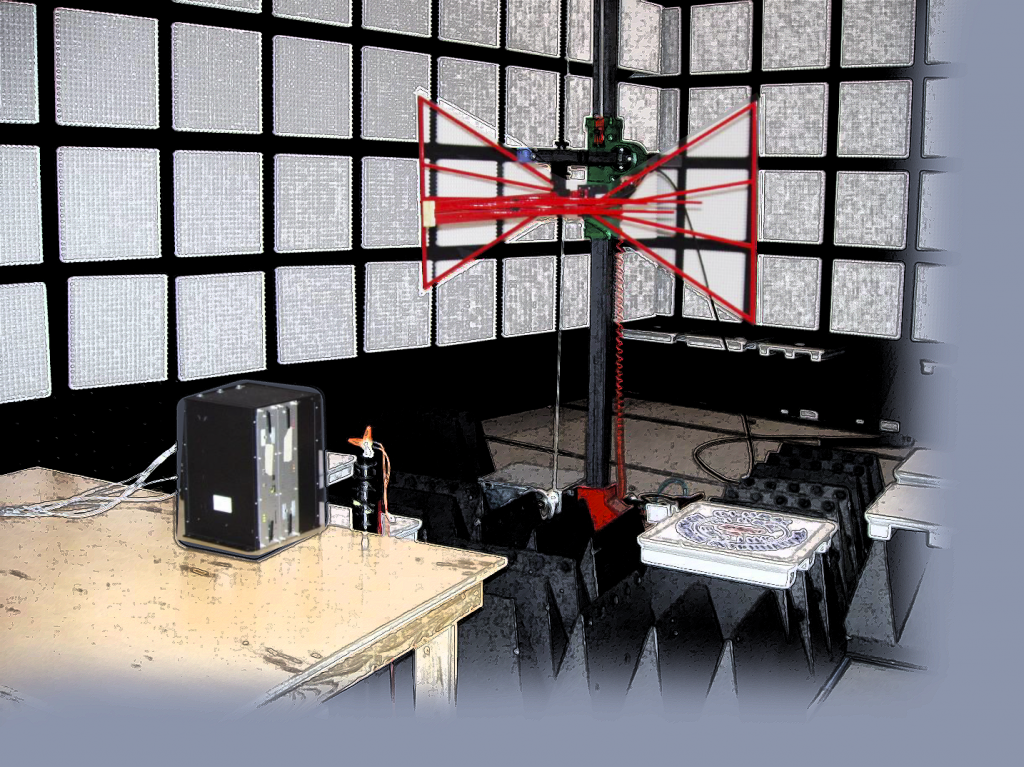 This test measures emissions outside world to the control system, to decide if the TECU can work in harmony with other electronics and devices.

All electronics emit electromagnetic energy
But limits are set by the IEC which cannot be exceeded. If a device exceeds these limits, it will not make it to market.


How the Test is Administered:
The TECU is placed in an "anechoic" chamber with an antenna that emits radiation toward the TECU. The TECU is monitored to see how both the operation of the board and the emissions are affected by radiation from a short range (3 meters approximately). This is one of the most frequently failed tests, but a Pass for the TECU!


Does Energy Escape from the TECU's wires?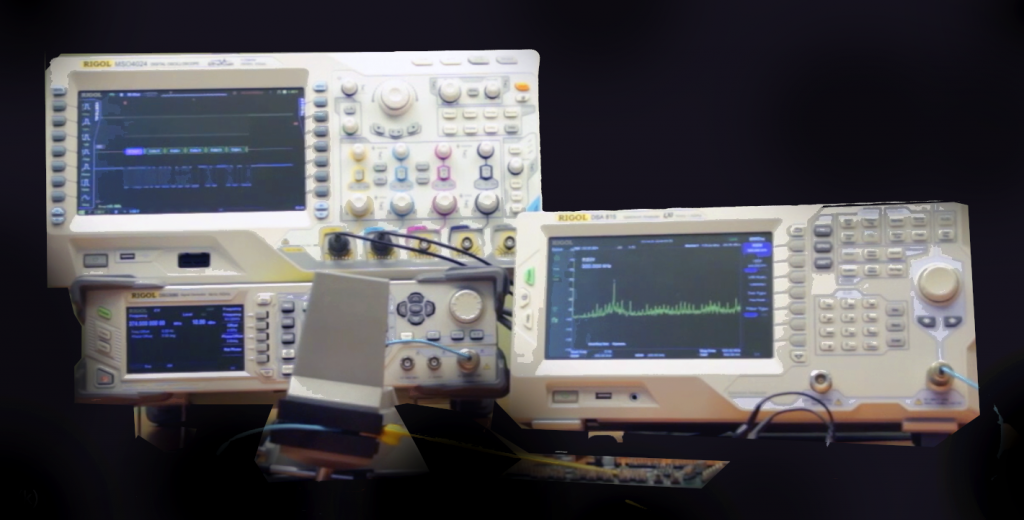 Conducted Emissions testing is to reveal how much electromagnetic energy is radiating from the wires.
Wires conduct electricity, and in the process, electromagnetic energy emanates around them. Safe and stringent limits are set by the IEC and once again, the TECU passed.

This test has two parts, a "Burst" and a "Surge".
Burst simulates the conducting of electricity through an unstable wiring environment. Sometimes, when the train is jostled or going over uneven crossings, the electrical contactors or relays rattle. This interrupts the flow of electricity and sends momentary bursts of electricity along the circuit. The TECU needs to be able to handle that.

The Surge test is similar, but meant to simulate rare, high impact electrical bursts, such as lighting strikes or disaster-caused surprise shocks. Electronics should have protection in place, such as over-voltage and over-current protection, so as to minimize the effect of destructive surges in electricity.
Not surprisingly, this is also a frequently failed test!


Electrostatic Discharge Immunity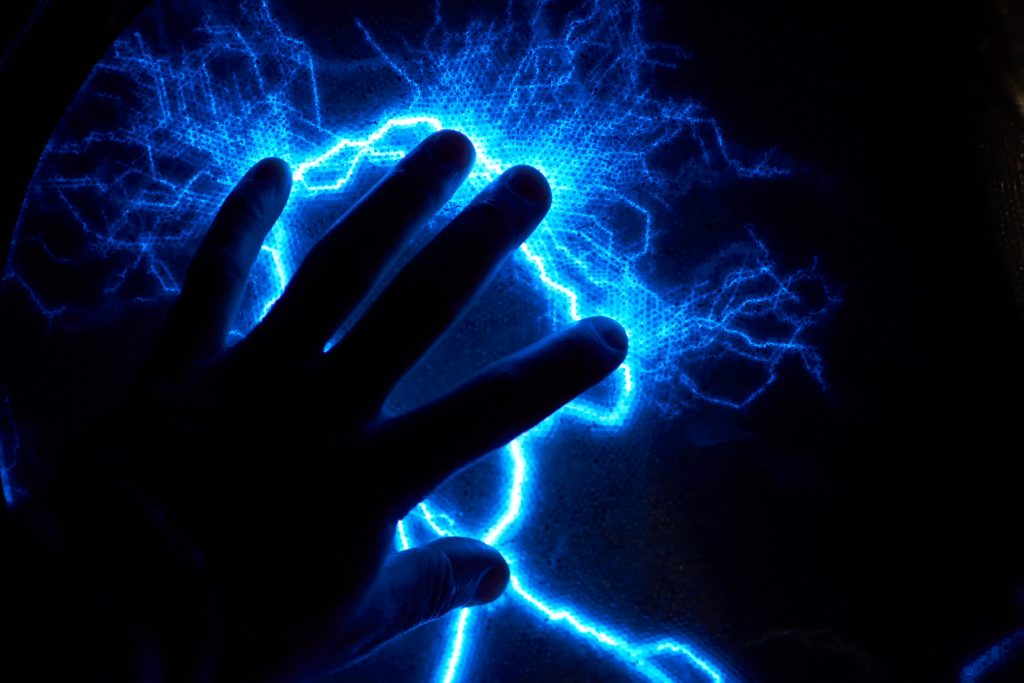 A fancy name for a familiar occurrence. This is the zap we experience when someone passes us a pen – static electricity.
Believe it or not, this static electricity we humans conduct can damage weak or sub-par electronics. Not to the TECU of course, which can withstand the full range of normal electrostatic discharges expected in the real world.


Temperature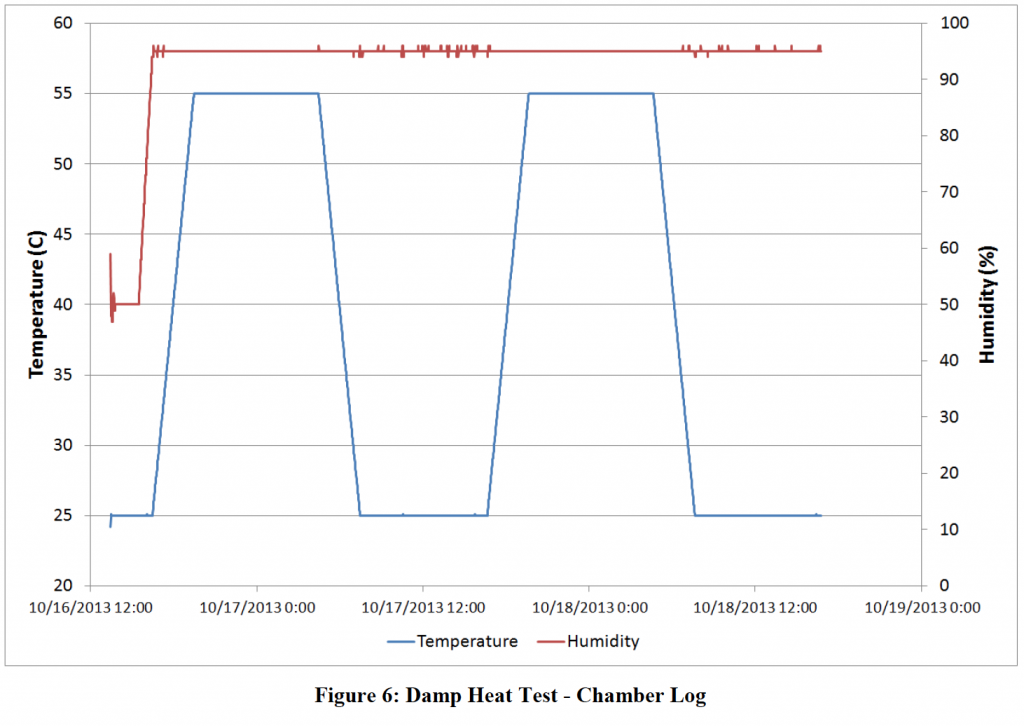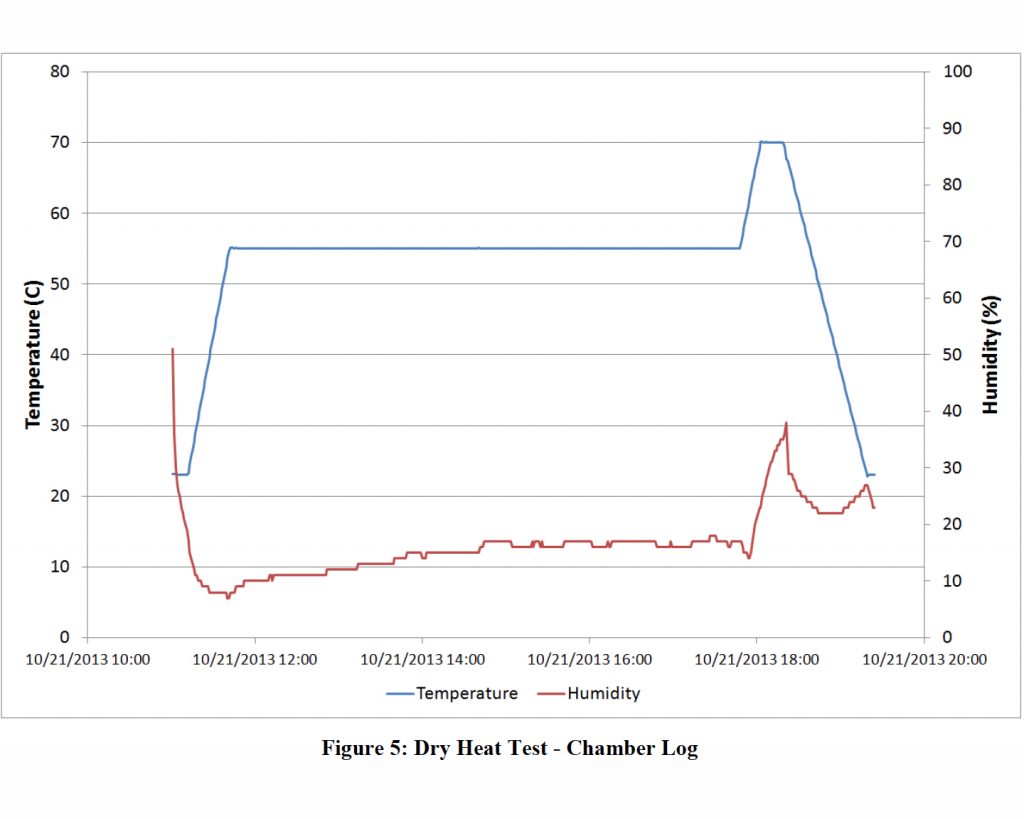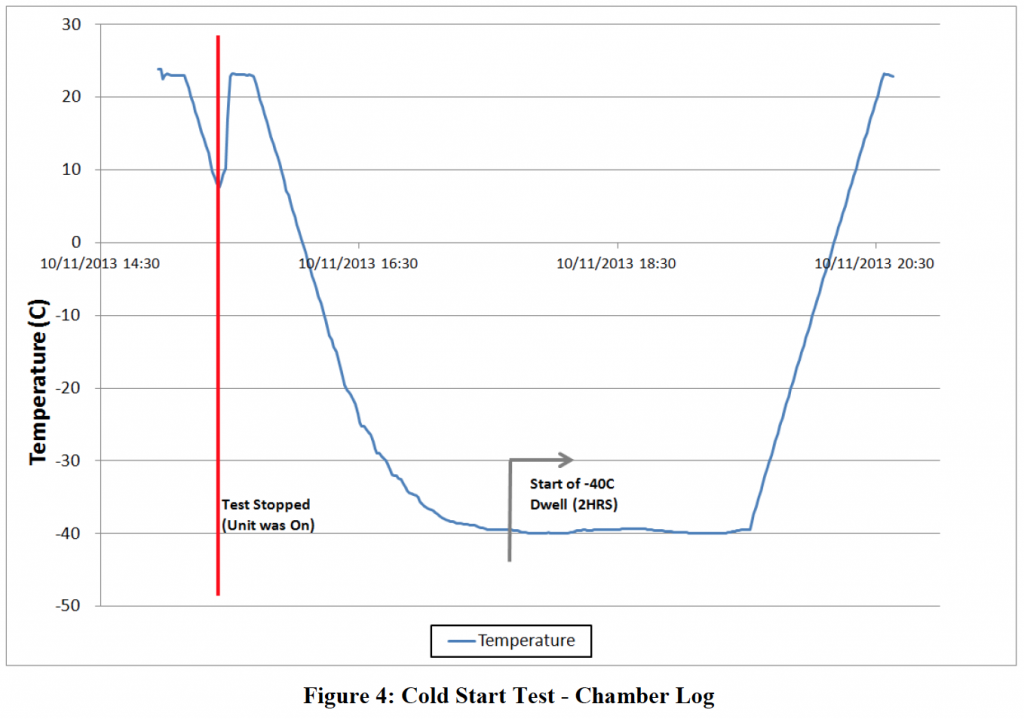 A quick look at these graphs will tell you that the TECU has been tested in environments of dry and moist heat, up to 70° C (158°F), and down to -40°C (-40°F).
What they can't illustrate is how cold Canada feels in the winter, how hot the engine room gets in a Florida summer after baking in the sun all day, or how the moist Peruvian tropics can encourage fast deterioration of everything, electronics included.
However, locomotives with TECUs in Northern Quebec start when everything else is frozen solid, and if you go to Machu Picchu today, you can take a ride up on the PeruRail passenger train; equipped with a TECU back in 2013 and still trucking through the vastly differing temperatures, humidities, and altitudes of the Andes.




After passing all these tests,
Nippon Sharyo and TMV worked together to install systems on the DMU in Rochelle, Illinois. From there it was towed by rail to Toronto. The DMU underwent more testing, dress-rehearsal-style, in its future environment, and began operation on June 6, 2015.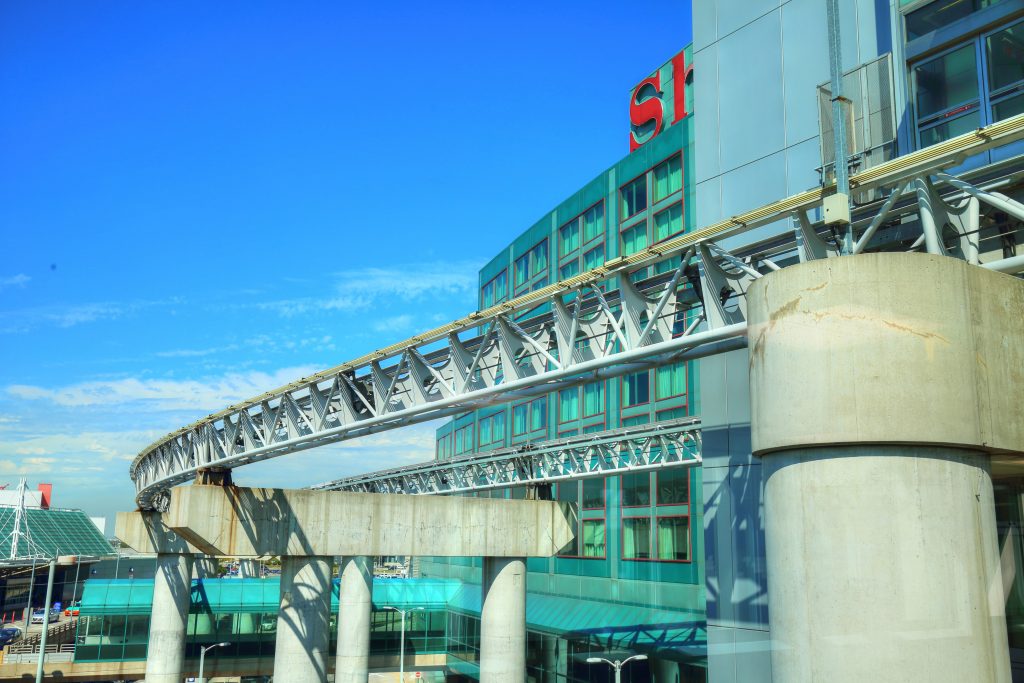 For more information on these trains, including their environmental impact and impressively low emissions, read here.
Also for further reading: Posted in April 2011 Topics of Rolling Stock





Thank you for reading, for other articles in the series:
Introduction – TMV Claims to Pass Muster
Pass Muster – 2 – The Railway Industry and ISO 9001
Pass Muster – 3 – Trade-shows and Memberships
Pass Muster – 4 – Meeting Customer Specs
Conclusion – Quality Policy and the Workplace