Cellular Remote Monitoring

Remote Health Monitoring (RHM) is a solution that offers information about the health and location of locomotives.
It also offers more data to your equipment managers, offering possibilities for off-site diagnostics and data analysis. The data can be delivered through cellular connections to anyone who needs it in your organization, no matter where they are relative to the equipment.

Data Available

RHM gives you access to all events from inputs and outputs. This means you can see everything the TECU is watching – all the readings from all the sensors all over your locomotive.
Answer questions like:
Where is my locomotive?
Is it idling or moving? Which notch is it in? Is it Leading or Trailing?
How's it doing? Any faults?
Am I getting full horsepower out of my engine?
How hot is the engine? How hot are the traction motors?
How many megawatt hours are used per trip?
What's the fuel level?

TMV uses whatever communication technology is available to allow TECU's captured data to be viewed online.
RHM allows customers to trace events from any location in order to help determine what occurred, when it occurred, and why events took place.
Any and all data generated from TECU is available to the remote viewer. This technology allows for an enhanced, proactive approach to locomotive troubleshooting and repair – thus saving time and expenditures.






TMV's secure, web-based interface allows customers to monitor equipment from any desktop or portable device.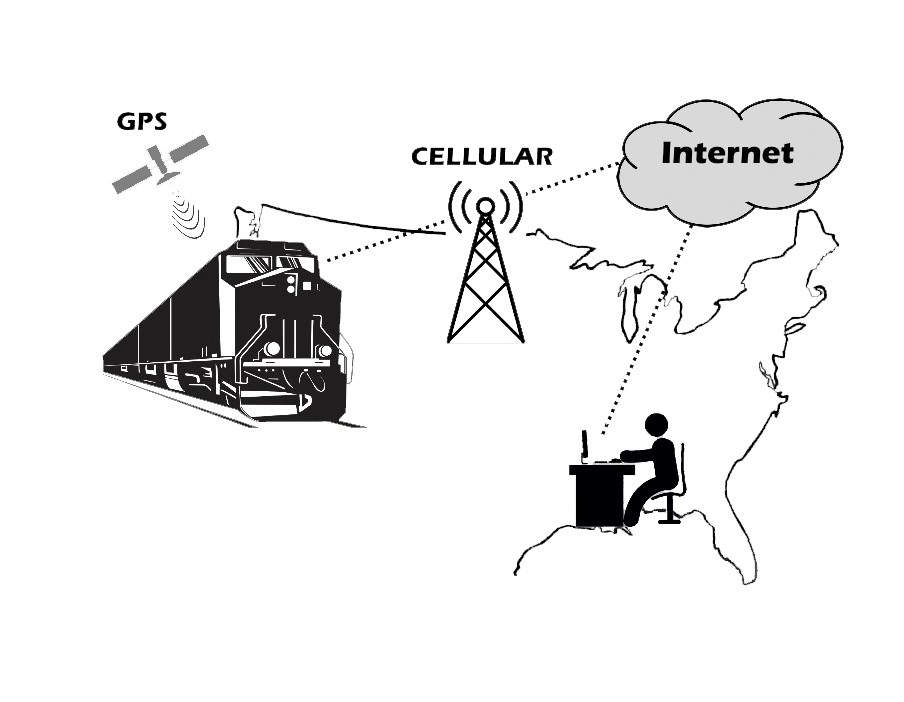 GPS-enabled, TMV's RHM allows for locomotive location tracking on a Google Maps viewing platform.  Additionally, it automatically uploads key system information several times an hour and sends fault logs to the web server on a customer-defined schedule.  RHM also allows for automatic message and email alerts if certain faults or events are experienced.












RAIN (Remote Access Integrated Network) Module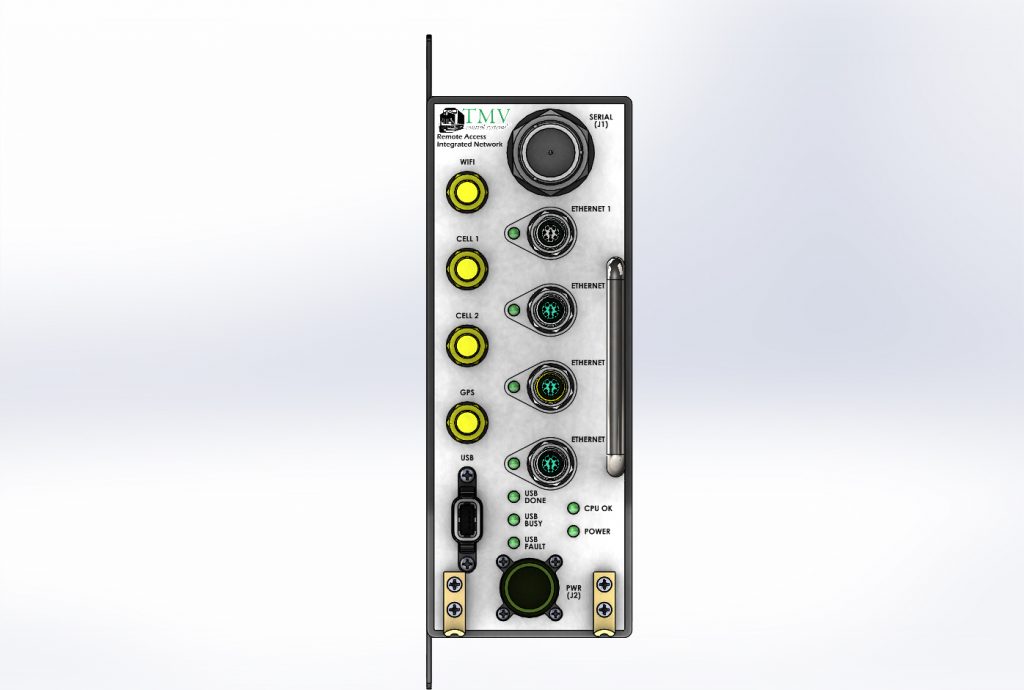 The RAIN module allows TMV's Remote Health Monitoring service to be added on to any locomotive.
Dimensions: 11.35" x 13" x 3.56"
Weight: 15 lbs


The Remote Access Integrated Network (RAIN) Module is the core of a stand-alone communications and data logging system that improves the management of any system.


Connection Abilities and Mounting Formats

The RAIN Module supports many industry standard protocols, including CAN, Ethernet, RS-232, RS-422 and RS-485.  It has a built-in modem, which allows data to be uploaded TMV's Remote Health Monitoring server; an internal 8GB SD card; and a USB expansion slot for removable flash drives.
The RAIN system includes the RAIN Module, a wiring harness for serial links, a wiring harness for power, and a cellular/WiFi/GPS antenna. The software is customized for each project based on customer requirements.
The RAIN module is available in either panel-mount (shown above) or rack-mount variants. The rack-mount variant is a 3-MCU LRU device conforming to AAR S-9101.

Downloads and Email Alerts

The RAIN Module supports communication using the following protocols:
RS485 (2 ports in harness)
RS422 (1 port in harness)
RS232 (2 ports in harness)
CAN (2 ports in harness)
Ethernet (4 separate ports)

The RAIN Module software collects data through the various ports and stores it in log files formatted to work with TMV's TECU-PC software.
When a USB flash drive is inserted into the USB port, all data logs available are downloaded onto the drive.
When WiFi or Cellular access to the Internet is available, data logs can be uploaded to TMV's Remote Health Monitoring server for remote viewing.

Additionally, Heart Beat packets and Alerts can be sent via email alerts when critical faults occur.

TECU System Add-On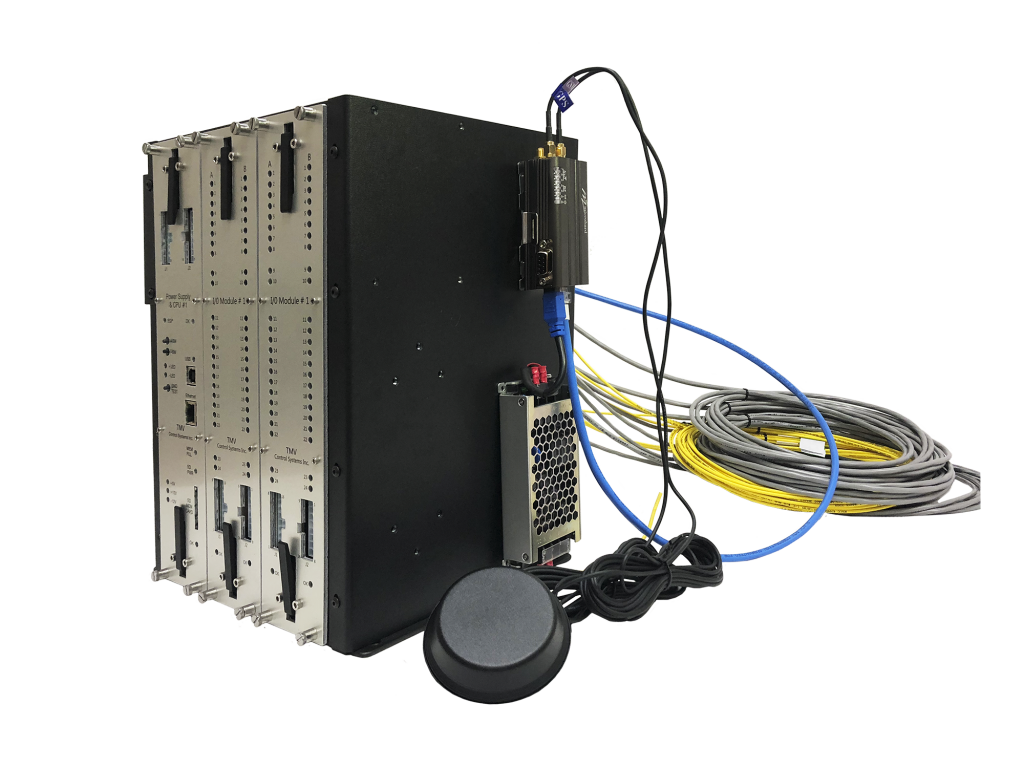 The RHM service can be added on to TMV's TECU system.
A modem and antennae are added to the TECU system, allowing the CPU Module to communicate with TMV's servers. All information is made available in the cloud for review from any location.
Remotely connect to the TECU system to perform fault log downloads, event recorder downloads (when feature is included), and real-time captures.






Affordable Subscription Rates!