MP15DC Refurbishment for Norfolk Southern Railways
When Norfolk Southern Railway (NS) made the decision to upgrade MP15DC switcher locomotives, it turned to TMV Control Systems Inc.
Overhaul:
Now designated as MP15E units, the main focus of the project was to increase the tractive capability of the four-axle locomotives. NS employees in Juanita overhauled the engines, reconditioned the trucks, and installed rebuilt traction motors. Employees in Roanoke replaced the D32U generators with AR10 alternators — effectively converting the units to AC power generation to increase reliability.
Most significantly to TMV, Roanoke equipped the locomotives with a microprocessor control system, TMV's Traction Engine Control Unit (TECU). This computerized system boosts tractive effort and pulling power while managing multiple systems — from wheel slip to cooling.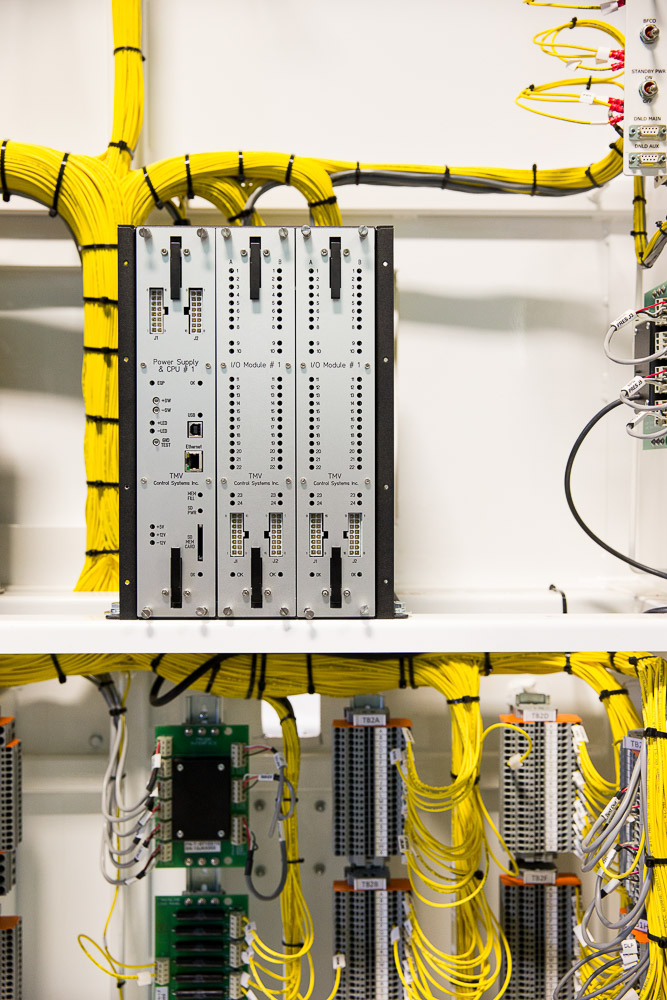 Roots in the NS999:

TMV's involvement in the MP15E project has its roots in the NS999: a battery powered locomotive that NS employs, in partnership with Brookville Equipment Corporation (BEC) built and commissioned in 2009. BEC had experience using the relatively new TECU from TMV and incorporated it into the 999 as the onboard locomotive microprocessor control system. While the 999 is currently not in active service, the TECU's performance sufficiently intrigued NS staff to the point of incorporating the system into the MP15E project. 
21 Units:
For the MP15E project, NS purchased the first TECU from TMV in 2010. The first two MP15Es were completed in 2011. In 2012, eleven more units were completed; five in 2013, and three in early 2014.




NS staff reported with two people working on the locomotive:
It took approximately two weeks to install the TECU. This is part of an overall project that takes about two months between the two facilities in Jaunita and Roanoke.  While initially the project took longer, as staff became more proficient and experienced, installation time levelled off significantly. NS staff also noted initially there was a software issue that involved data received from the speed sensors, but once resolved there were no other issues with the TECU. 
The TMV team is pleased with the confidence that NS exhibits in TMV products and is honoured to continue collaborating on locomotives projects with Norfolk Southern Railways.